Main News
The web page is very new. It will take time to establish it fully.
On Wednesday 29 May twenty four of our P6 and P7 children took part in the Dundee Schools Athletics Championships at Caird Park. The children put in their best efforts and were a credit to the school. It was the first time our new school tracksuits had been worn and the children received many compliments on how smart they all looked. Many of the children reached the finals. The medals achieved were Scott P7 gold for long jump and 100 metres, Brandon P7 silver for 400 metres, Ellie P7 bronze for long jump and Daniel P6 bronze for 400 metres. Well done to everyone who took part and thanks to the parents who cheered them on.
P6b took their roles as the characters from Jungle Book. The children danced, acted and sang. The stage was a huge success.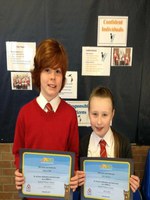 Matteo and Ellis who are in Primary 6 have worked really hard this year. Today at our assembly they presented prizes to the winners of the competition they ran. Children throughout the school designed bright reflective clothing that would ensure they would be seen in the dark.
The Arts Festival was very successful this year. Bronze awards were given to Female vocal soloist Mia Brown, Brass Duet (Rosa Sweeney and Ben Kidd) and the Brass Ensemble. Silver awards were given to male vocal soloist Euan Fallon and the String Quartet (Elizabeth Donaldson, Ryley Innes, Elyese Ross and Rachael Lindsay). Gold awards were given to the Choir (led by Mrs Glennie and Miss Wales), Violin Soloist Rachel Lindsay and the String Ensemble. Well done to everyone who took part.
P6 and P7 are currently working very hard to put the finishing touches to their performance of Filmtasia. Tickets are on sale from the school office. Prices are adults £8.00 and children/OAPs £6.00. The children are performing at Gardyne Theatre on Tuesday 26th March 2013 and Wednesday 27th March 2013 at 7.30pm.
P7 parents came to the Grove Roadshow on Wednesday 13th March 2013 to hear The Head Teacher, Mr Graeme Hutton and the Depute Head Teacher, Mrs Lesley Elder of Grove Academy explain the excellent programme that is in place at Grove Academy to ensure P7 children have a smooth and enjoyable transition in to S1. Mr Hutton and Mrs Elder also explained the fantastic opportunities that are on offer at Grove Academy. Parents commented on how positive they felt the night had been, saying that it had put their minds at rest.
A librarian from Broughty Ferry Library came to Eastern Primary School today, Wednesday 13th March 2013 and read stories to the children in their
classes
.
On Friday 8th March the P7 netball team along with their coaches, Mrs Christie and Miss Jamieson organised a Staff V Pupil netball match. Everyone had great fun! The event raised funds for the school netball team. All players were exhausted at the end, especially the staff who won 8 - 4.
The Scottish Evening on Friday 22nd February, organised by the Parent Council was an excellent night. Many children of all ages from the school contributed to making this even a success. The Boys Brigade Pipe Band opened the evening. Two P7 children, Ewan Fallon and Rachel Lindsay were comperes and introduced the winners of the Burns Poetry Competition from each year group, P5 Scottish Country dancers, highland dancers Imogen McConville and her elder sister Georgia, the P6 and P7 strings group and a violin solo from Rachel herself. Many families came along and joined in with a few Scottish Country dances themselves
.