Main News
The web page is very new. It will take time to establish it fully.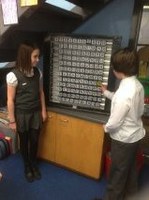 The money raised from the Parent Council Christmas Fayre has been used to buy four interactive one hundred squares. These provide a one hundred square visual map to support children when they are learning about place value, multiplication, decimals and many other numerical concepts.
Tickets will be going on sale next week for our Scottish Evening on Friday 31st January.
All of our classes have had great fun at their Christmas Parties, playing party games and having fun with their class and class teacher.More photos of parties will follow....
P5 Party P4 Party
P4 Party P5 Party
After the great news that our P3 Carol Singers had won the Wave 102 competition, they were invited along to sing in The Overgate Centre and receive their prizes. The children sang beautifully. P3 will also be provided with a disco by Wave 102 in the New Year.
We are delighted that there has been another addition to our playground. The sail was completed today offering shade to children for the sunshine (when we have it) and some shelter from heavy rain. Benches will be installed at the end of this term under the sail so that the area can be used as an outdoor learning area or as a seated area at playtime and lunchtime.
Thank you to the Parent Council for organising the Christmas Fayre on Friday 29 November. It was a lovely night and there was a real warm, Christmasy atmosphere. There were many local traders selling beautiful gifts and it was great to see so many families coming along and supporting this fantastic event.
We had a pyjama day today to raise money for BBC's Children In Need appeal. Thank you to everyone who donated to this worthwhile appeal. We raised £413.00! It was great fun.
We had the pleasure of meeting Mr Alf Downton today who is 100 years old! He spoke to the children about his experience of war and of his life. The children sang a rememberance day song and asked Mr Downton some interesting questions. Matteo Bell, Ben Murray, Eleyese Ross, Ben McQuillan (Reading Rhys Sutherland's poem in his absence) and Kerr Darling from P7b read to the school and Mr Downton the war poems they had written. The children also presented Mr Downton with a book of all of the rememberance day poems written by P7 as a token of gratitude.
The Eastern Primary Choir will be singing at the Broughty Ferry light switch on. This is on Thursday 21 November at 6.30pm. More information will follow.
Our Parent Council are holding an Arts and Crafts Evening on Friday 29 November 6.30pm - 8.30pm. Tickets can be ordered in advance using the letter that was sent home with your child. Please come to the main entrance on this evening where you will be made welcome. We hope many of you can support this event.